Ok So I left off at the stripper pole fitness booth in the last blog.  After we had left that booth we made our way towards the dungeon. Yes they had a special section that was curtained off for the area that showcased the world of BDSM (bondage and discipline, domination and submission, and sadism and masochism). There you were not able to take any photo's. It was sectioned off with black curtains for privacy.
Inside they had different sections that were set up to demonstrate different scenarios of one getting pleasure. There was a spider web wall (I can't remember the exact name of the wall), a spanking bench, spanking horses, and different toys that included floggers made from leather to fur and home made toys that could be used like a huge spoon. Each item had it's own purpose to provide the person with pleasure.
I was a bit surprised at how open people were in front of strangers. Attendees would volunteer to get flogged on one of the benches by the Masters that were there. The would toss of their clothes and get flogged or spanked in front of people that were inside the dungeon.
It was something different to see and learn about this whole other lifestyle that is fairly popular and many people take part in.
As we we were walking out we walked passed a couple who were doing a little whip play. The girl in the skirt is Candy Cane.
Here are two videos of Candy Cane having a little fun with the whip.
After we left the dungeon myself and Kaenar split up for a bit to look around and decided to meet back at the dungeon entrance after 45 min. I went exploring and the first place I got to was this Portable Dungeon Gear Booth.
The owner of the booth was more then willing to show me how his toys worked. In case you are wondering if I went and gave it a try. I hadn't.
As I made my way down the booth my attention was caught by a ton of pink. There were pink benches, a pink coffin. Well all those belonged to Mizz Barbie Bitch.  She is a dominatrix. This is her in the photo next to her pink coffin.
It must be an interesting thing to be a dominatrix. I asked if it was okay to take a photo and she was pretty cool about it and decided to pose next to the pink coffin.
After I left I was walking down to the next section when I saw someone familiar. This person I had not seen since April at RT. So there standing on top of a platform in nothing but dark blue swim trunks was Christopher Howell. He's a model and one of the Mr. Romance contestants. He's also a friend.
He was modeling a new type of beach wear called Nudi. It was so great to say hello and to catch up. I hope to see him next year at RT.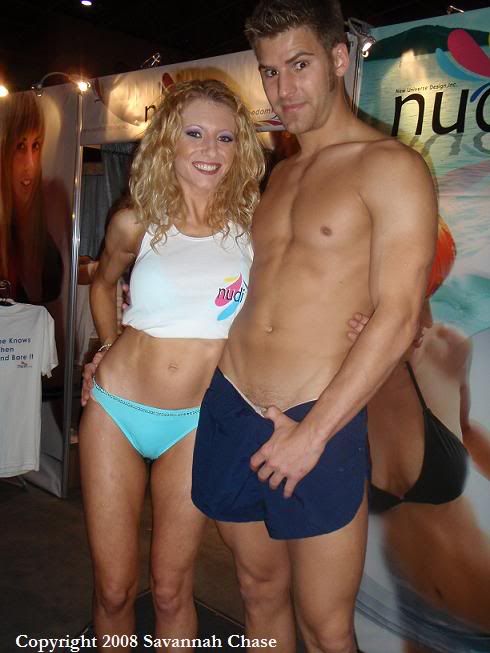 Time flew by fairly quickly while I browsed the booths and talked to people while handing out my card. There were so many interesting people there. The next event was starting on the main stage and it was a belly dancer.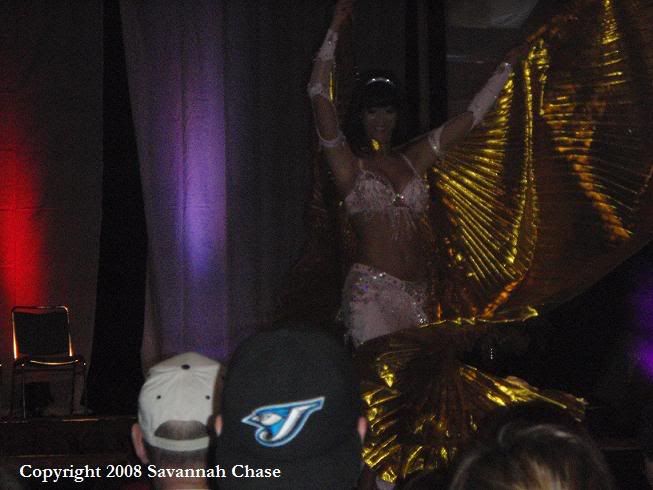 The lighting would go dark so it was hard to take a good picture of her. She looked amazing the ay she moved. Every part of her was with the rhythm of the music.
I managed to get a little bit of her routine on video so you guys could see.
****
Make sure to come back tomorrow for part 2…more pics, more video and more stories
Stay naughty
Savannah