The last time I attended and covered the Everything To Do With Sex Show in Toronto is 2008. Wow time has flown by so fast.
2010 and I'm back. I hadn't done any events this year and set my mind on getting back to at least this one event. The funny thing is I almost never made it. On the day of the event a small automotive emergency occurred but things were taken care of and I made it.
I had been really looking forward to getting to the show because I would get to cover the event for the site and I was also meeting a friend there who'd I'd met via the writing community. She was volunterring at the event. I couldn't wait to take pictures, do interviews and twitter live from the event.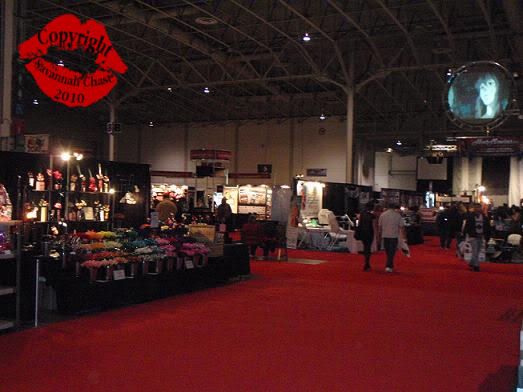 When I walked through the door the first thing I noticed was that somehow the event seemed smaller. There weren't as many booths set up as there had been in 2008. I remember the places was packed with tables and industry people. I was a bit surprised since this year the event had expanded a lot and was now being help in 4 different cities around Ontario.
The first booth that caught my eye was this naughty little jewlery place called Arabesque.  They had some sexy and erotic non piercing body jewlery for men and women.
I think there are a lot of people that would love to spice it up a little with a nipple ring or a cock ring. Who doesn't want to add a little bling to their naughty part?
In case you are interested in checking out theur jewlery and all the stuff Arabesque carries here is the info.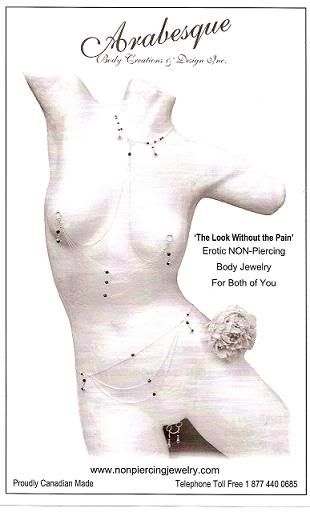 I didn't have much time to walk around since I arrived after the start of the show and about 30 minutes after my getting there the Lust In Wonderland Fashion Show got on its way.
I did get the chance to stop by a familiar booth. I'd first met the owners Shlomo and Aurora in 2008. They were back with their angels to promote their Wicked Club.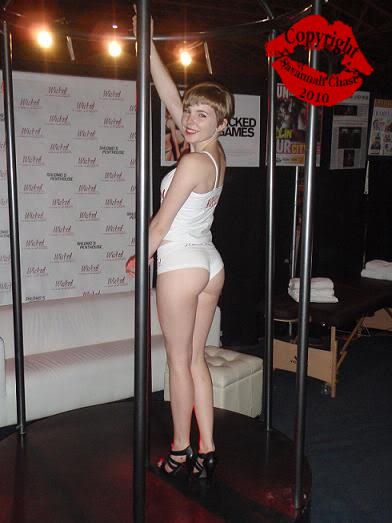 Since 2008 the club has grown and there will be another new location opening up. If you have never heard of Wicked Club check out their site. They are Toronto's hedonistic club. This is a place to explore your fantasies and let out the kinky side so you can have a little fun and play.
I have a ton more to tell you about including an interview with the Suicide Girls, photo's from the Lust In Wonderland Fashion Show and coverage of the seductive The Monde Ose Cabaret performance. Come back tomorrow for Part 2 of the 2010 Everything To Do With Sex Show coverage.
CONTEST ALERT
I will be running a contest to win a 2010 Hedonism calendar I got at the event. The contest will run until the last post of my coverage of the Everything To Do With Sex Show. To get your name in the draw for the calendar all you have to do is leave a comment on any of the 2010 Everything To Do With Sex Show blogs and I will add your name into the draw. If you comment on all the blog posts I will enter your name into the draw for each blog post. (That means if you comment more than once on a blog you only get one entry, you have to comment on each part of this Everything To Do With Sex Show blog coverage). Below is a photo of the calendar. Good luck.