I'm guessing you are all wondering how long was I at this event? Pretty much most of the day. It took a while to get around, do some interviews, catch the different main stage events. Also I think this was the best day since the event ran all day so there was more going on.
So as I mentioned in part one of my coverage I made plans to meet up with a friend from the writing community. We'd never met in person so it was one of those we will meet up and text when we are both there.
That is exactly what we did. By the way Natasha, it was a pleasure to meet you. Thanks for all the fantastic info in the dungeon.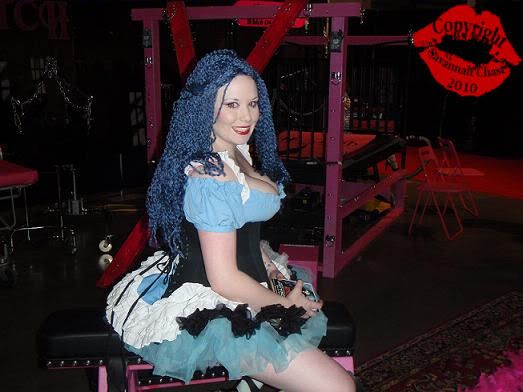 So after saying hello to my friend I continued on to explore the event. I stopped off at the Miss Barbie Bitch booth and had the pleasure of talking to Mistress Irony who is a pro-dom. What caught my attention is her outfit. She was dressed up like a doll. I was thrilled to have the chance to do a small interview with her right then and there.
After spending some time and getting a look into her profession I continued to explore on. I saw there was some smoke coming from one of the booths and a light. Who did I find? The hunky firefighters from Tame The Flame. You know I could not pass up a chance to go say hello and hang out with some real firemen.
Tame The Flame is a firefighter recipe book with shots of firemen which supports charities like Firefighters Without Borders.
To support the guys and their fantastic cause I got myself a calendar and the guys were great about signing it. I had mentioned that I was covering the event for my site and that I was an erotic romance author. They were fantastic about signing it.
Did you think I forgot about you guys? Would I? Never…So you know I got a second recipe calendar which I got them to sign for you all. Yes I will be giving away this flaming hot recipe pinup in a future contest.
Here are a few shots of what the guys signed in my book.
The recipe pin up which I shall be giving away is signed by six of the firefighters. When they were signing it for you guys my direct instructions were to make it dirty and naughty and that is what one lucky winner will get. You will be able to droop while you try and focus to cook some of the yummy things in the book. Just a warning, try not to burn down the kitchen…
So after I got 3 of the 6 guys to sign the book I had to come back after when a few more would join the bunch. Since I still had a ton more to see I had plenty of time.
Plus it was time for the Mr. Exotika Male Revue and from what I remember of the event in 2008 this was one part of the event you did not want to miss. When they hit the stage it was pretty much given that they would have your full attention.
The first hunk to grace the stage was "the pilot". Gives a whole new meaning to the mile high club.
The ladies around me were going insane. You can hear it in the background of the video I took.
The next hunk was "the construction worker". Yes the first thing that came to mind is my book Bid For Love.
He had the ladies hot and bothered while he did his thing on stage. The music each guy had for his performance added a ton more heat to the show. I think for the time being while these sexy men strutted their stuff and made love to the crowd with their gyrating, grinding and thrusting the imagination ran wild for many watching.
Their moves were like a slow, seductive, and raw moment between the sheets.
After watching this sexually charged show my next stop took to me Aradia Fitness. I'd had the chance to mee these lovely ladies when I first covered the show in 08. This is the place where you can let out your sexy side and learn how to pole dance. I use to think learning to pole dance is easy. It is far from it. One fantastic thing about it is the fact that it works out every part of your body.
If you're interested in learning check out their site. It also gives you links to buy a pole for the privacy of your own home. Who wouldn't want a pole for their house?
Whip out the pole, seduce your lover. ….Get your sexy on…..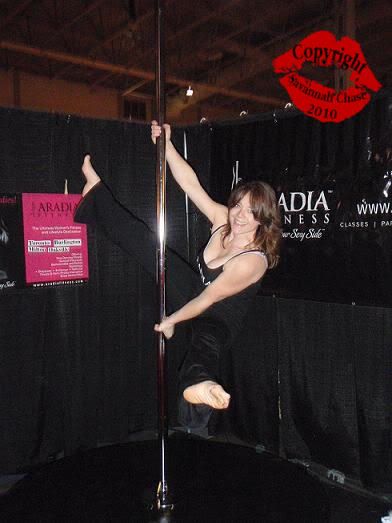 Here is one of the ladies showing one of her moves….
In the next few weeks I will hold a small contest to give away a Free Intro Teaser class at Aradia Fitness. The only thing is that this Aradia coupon is for locations in Ontario. So the contest will only be for people in Ontario unless you are planning to visit Ontario and would still love to enter to win.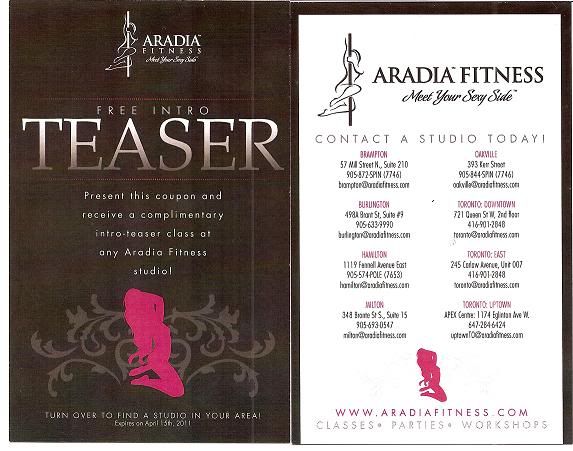 That is all for Part 3 of my coverage of the 2010 Everything To Do With Sex Show. Come back tomorrow November 27, 2010) for part 4. I will be posting part 5 on November 28, 2010 and the last part which is part 6 on November 29, 2010.
Remember there is a contest going on to win a Hedonism calendar. For all the details check out Part 1 of my coverage at
http://savannahchase.com/2010/11/24/2010-everything-to-do-with-sex-show-coverage-part-1/
If you missed Part 2 check out
http://savannahchase.com/2010/11/25/2010-everything-to-do-with-sex-show-coverage-part-2/
I will see you all tomorrow with Part 4 of the 2010 Everything To Do With Sex Show. I will be visiting the Hedonism resort, meeting burlesque queen Roxi Dlite and saying hello the the Canadian Ass Man, Uncle D.
Savannah