Once again this year the Hedonsim Resort was back. I first heard about this place when I attended my first show in 2008. You are probably thinking, is she sheltered or something? LOL..No I'm not but I think I'm not the only one out there who had not even know this place existed.
This resort is for couples who want to break free and indulge in a world where fantasies can come to life.
There is also an event going on at the Hedonism Resort called Hedo Kama Sutra Week. For more info check out their site.
You can bet that this resort got my creative mind going. So many possibilities to write about.
I had the opportunity to meet author Cathy Snoggles who was at the resort booth. We talked a little about the writing industry and she did a small intro video about herself and her work.
I plan to have her as a future guest on Watch Out where you can find out more about this great author. I am lucky enough to get a copy of her book Tantalizing Cougar Tales from her which I'm currently reading.
Before attending this years show I had done a little research on who the guest would be and what entertainment was booked. One of the people who caught my attention was Roxi Dlite
I've always loved the whole world of burlesque. As we all know the whole burlesque genre has changed from what it use to be.
So with my research into the show I looked up Roxi Dlite and I wanted to interview her at the show.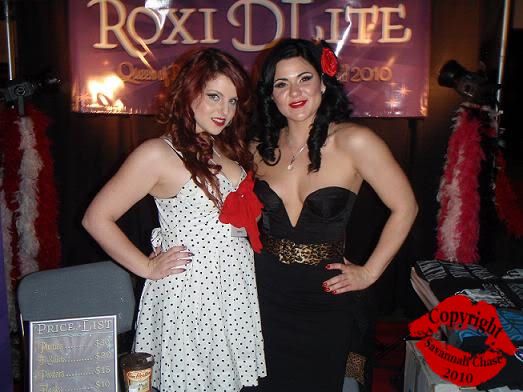 I did get the chance to meet her but no interview. She was one of the main acts for the show and there were media waiting to interview her plus she had do do her show. All I will say is that she is such a sweet person.
I do hope to get an interview with her in the future.
Here is Roxi doing what she does best.
I love her hoop routine…I only wish I could do this….
So after watching Roxi Dlite do her fantastic routine on stage my next stop was meeting a man I'd seen on TV. Uncle D also known as The Canadian Ass Man. I must say he's an interesting guy. He's built his name and image on his photography of the ass.
Remember to come back tomorrow for part 4 of my coverage of the 2010 Everything To Do With Sex Show. Also don't forget about the contest to win a Hedonism calendar.
If you've missed the first 4 parts here are the links. There are tons of pics and video for you to enjoy.
Part 1
http://savannahchase.com/2010/11/24/2010-everything-to-do-with-sex-show-coverage-part-1/
Part 2
http://savannahchase.com/2010/11/25/2010-everything-to-do-with-sex-show-coverage-part-2/
Part 3
http://savannahchase.com/2010/11/26/2010-everything-to-do-with-sex-show-coverage-part-3/