My next stop was at the Sgt. Splatters Paintball Booth where I had the chance to meet model, actress and soon to be Playboy centerfold Rachelle Corbeil. Really nice girl. She was signing posters and photo's of herself. I asked her about her work with Playboy. She had the chance to visit the Playboy Mansion to do her pictorial there. It should be out soon.
My next meeting has to be one of my highlights of the day. The first time I had heard about the Suicide Girls was from an episodeI caught of CSI a few years ago. I had never heard of SC before the show.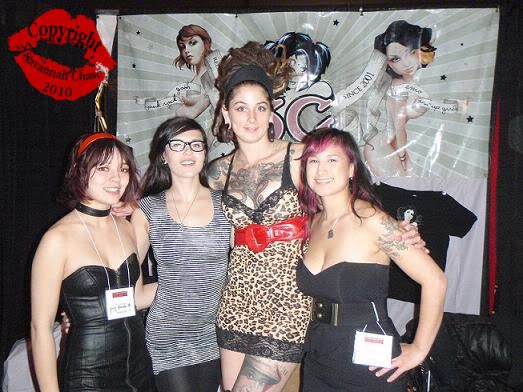 I missed out on getting to interview the girls in 2008 and when I attended the show this year I was unsure if they would be there. In the picture is Zooey Suicide, Agy Suicide, Luscious Suicide and Friskey Suicide.
The thing that I adore about SC is the fact that they are all unique. They give a voice to all the different girls around the world who are themselves. The are not cookie cutter and or perfect. Anyone can become a Suicide Girl. There are girls who have a ton of tattoos, little tattoos, long hair, colorful hair, emo, punk. You name it… The whole SC community is growing continuously. I also have to add I love their art.
I was thrilled that I got to talk to them and interview them at the event. 
So after meeting the Suicide Girls the next big event on the main stage was the Monde Ose Cabaret presenting The Mob Ball. I'd checked out their site before getting to the show and was pretty interested in seeing it live on stage.
The show has been defined as Strip Chic and Mafia Glam.
I must admit this had to be one of the hottest shows that the Everything To Do With Sex Show has booked. I've also posted a official video from their site where you can see the whole story. Their performance surely seduced the crowd and everybody couldn't get enough.
Monde Osé presents – M.O.B. Ball 2010 from Frank Mondeose on Vimeo.
After the Mob Ball I made my way back to the dungeon to see my friend. Having acamera is not permitted in the Dungeon so I have no pictures to show you. But you can all use your imagination. I had heard about the violet wand demonstration that was going on there and it peaked my interest.
The violet wand is the use of  a low current, and high voltage, high-frequency, electricity to the body using an electromagnetic coil for electro play in the BDSM community.
The demonstrator had shown us the different types of connections. One was a light bulb and when it touched your body you saw the electricity hit you. The most intense one is described like getting a tattoo.  I agreed to have the guy show me just what it feels like on my hand and arm. The feeling is intense and it leaves a red line on your arm, almost like a burn. I was told that it might occur and you are to put some cream on it. It's pretty much like getting a sunburn.
We also did a few experiments where a group of us stood holding hands while I was the first to get hit with the light bulb and we would see how far the current would travel. We got to the third person before it stopped.  I was also getting touched with the wand and I could touch someone and they would feel the spark. It all depends on the intensity that is set on the whole thing.
I was also surprised to learn that with enough experience you can brand someone with the violet wand. There was a woman there with the demonstrator who had been branded. The appearance of the branding looks as if you have been burned. Instead of the usual light bulb you use a dental pick. (Just a warning please do not try this at home if you have no idea what you are doing.) Branding is very intense, permanent and it hurts.
http://en.wikipedia.org/wiki/Violet_wand
The whole violet wand experience was really interesting but I could not imagine how one could find it pleasurable since it is more painfull and at times uncomfortable.
There were a few different presentations going on and tables with toys including whips, candle wax, and other things you can use in sexual play. Stuff you would never think to use like a wooden spoon, or whips made out of gimp… The creativity to make the different things was fantastic.
Toronto TNG was there to inform the people who came to the show about their group. I've included a little bit of info below.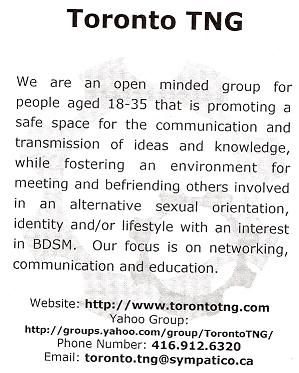 People were also there to promote Fetish Night at North Bound Leather.
North Bound Leather is huge store with a massive collection of everything leather.  They also host monthly fetish night's and yearly have held North America's larges fetish fashion show. They hold different event's and seminars you don't want to miss.
So this is all for part 5, make sure to come back tomorrow for the last part of my coverage of the 2010 Everything To Do With Sex Show.
As always, if you missed the other blogs here are the link.
http://savannahchase.com/2010/11/24/2010-everything-to-do-with-sex-show-coverage-part-1/
http://savannahchase.com/2010/11/25/2010-everything-to-do-with-sex-show-coverage-part-2/
http://savannahchase.com/2010/11/26/2010-everything-to-do-with-sex-show-coverage-part-3/
http://savannahchase.com/2010/11/27/2010-everything-to-do-with-sex-show-coverage-part-4/
Don't forget to comment so you are entered to win a Hedonism calendar. All the contest info is in part 1.