Remember I told you I would be going back to meet the rest of the hunks from Tame The Flame. I kept my word…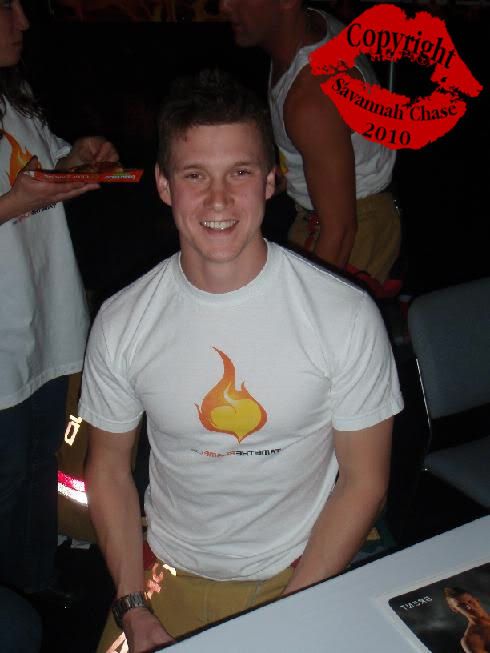 Here is Brent giving his best smile after he's just signed a naughty message on the calendar I plan to give away to you guys in a future contest.
For Rich I told him make your message as naughty as you wish. My readers read erotica so they will love it. You bet your buns he brought out the kinky side for his message.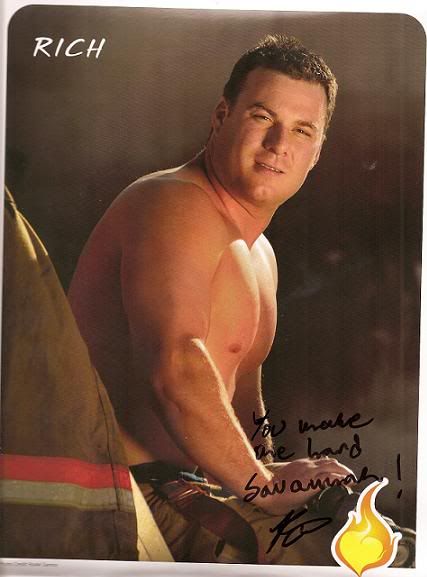 Don't you just love these messages???
This is the calendar that will be a prize in a future contest. You can cook and drool. Just make sure to not burn down the kitchen. Unless you want some firefighter hunks to come to your house. I still don't recommend it. Seriously..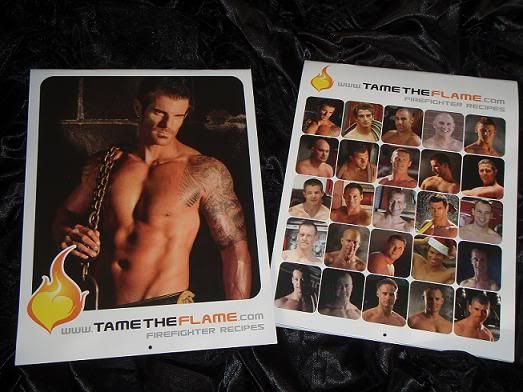 During another visit to the dungeon I stopped by for a presentation that was going on called Erotic Resuscitation. It was all about resuscitating your patient with ANY means necessary. As you can see, these ladies had a lot of fun.
One of my favorite places had a booth at the show again this year. Cake Star is an amazing bakery that make the most mind blowing cakes and pastries. The first time I discovered them was yes in 2008.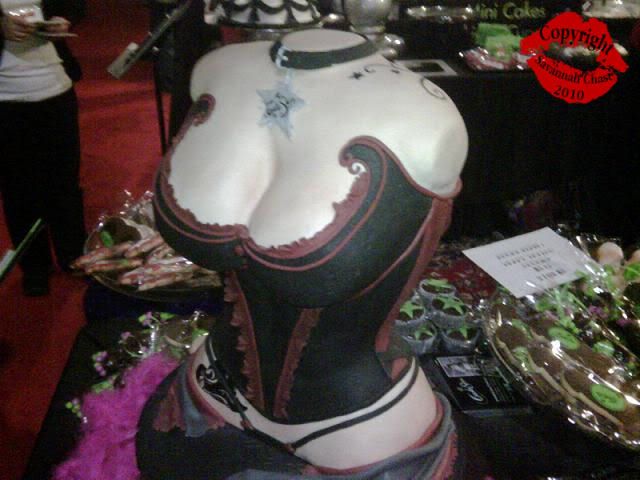 Looking at these cakes you have to be blown away. The attention to detail is just amazing. I would feel bad trying to eat the cake because all I would think about is how much work went into this edible creation.
I got myself a fudge cupcake at the show and all I will say is OMG they were soooooo good. Chocolate overload.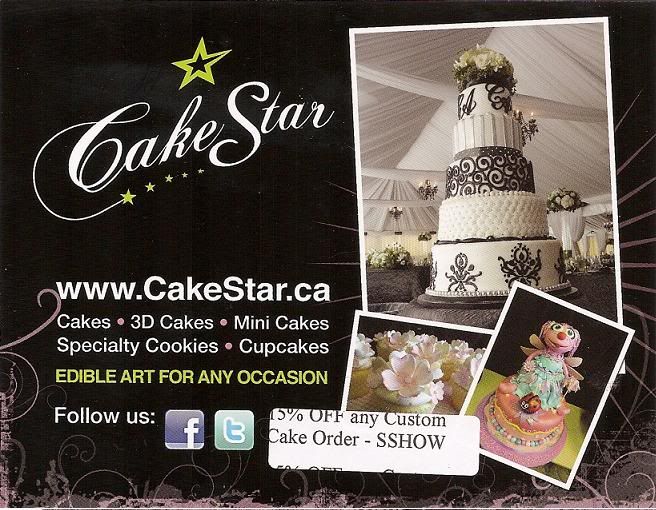 In the future I want to order one of their amazing cakes. I just need an occasion and an idea of what I want. Maybe when I make my first say to a New York house….What do you guys think?
While I was at the Cake Star booth I overheard two ladies chatting about last years event and it turns out that someone ran up to the table and took a bite out of the penis cake and ran away. Someone must have been really hungry for some penis…LOL
So after the chocolate overload I went back to the dungeon to see my friend one last time before she would be finished for the day. I was a little late since she was gone already. I did manage to catch a seminar outside the dungeon called Bottoms Up Impact Play. It was all about the spank and how to get the best pleasure from playing. The presenter has a whole array of whips and paddles. Stuff you have at home like a wooden spoon or the back of a wooden hair brush. Who knew you could have so much fun with items you would find around the house. I guess pleasure can come in many forms or items. They even had whips from unraveled rope. One you take it apart the ropes is so soft, and a whip made of gimp (yes the plastic stuff one uses to make crafts), clothes pins are a great use as clamps for the body. Like I said use your imagination with items you have around the house and you can make your sex life a lot more kinkier and interesting.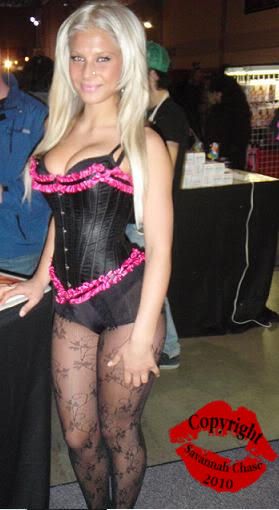 My last stop of the day was meeting Playboy cover girl Angelina Polska. The few moments I spoke to her she was pretty nice. I love the fact that she picked her last name to represent her country of Poland. What a way to show some love to where you come from. I plan to interview her in the next few weeks.
All in all I had a fantastic time covering this years Everything To Do With Sex Show. I always do. I got the chance to meet a whole bunch of interesting people and get my name out there in the process. I always enjoy attending the event for the reason that everybody who goes there feels comfortable with who they are, what they look like and don't care about what people might think. It is their time to let loose, be free and let out the kinky side they might not get to let out too often in public.
I really got inspired this year with everything I saw and the people I spoke with and can't wait to incorporate it into my future stories.
I really can't wait to cover the event again.I want to thank all of you for coming by and checking out my coverage of the event and for all your comments. I hope you've enjoyed my posts.
November 30, 2010 I will announce the winner of the Hedonism calendar here on the blog.Good luck to all of you.
As always, if you missed the other blogs here are the link.
http://savannahchase.com/2010/11/24/2010-everything-to-do-with-sex-show-coverage-part-1/
http://savannahchase.com/2010/11/25/2010-everything-to-do-with-sex-show-coverage-part-2/
http://savannahchase.com/2010/11/26/2010-everything-to-do-with-sex-show-coverage-part-3/
http://savannahchase.com/2010/11/27/2010-everything-to-do-with-sex-show-coverage-part-4/
http://savannahchase.com/2010/11/28/2010-everything-to-do-with-sex-show-coverage-part-5/
Don't forget to comment so you are entered to win a Hedonism calendar. All the contest info is in part 1.