http://carrieannbloghops.blogspot.ca/p/heros-blog-hop-hop.html
Starting July 27th and ending July 31st, readers, authors, bloggers, everyone, will be able to HOP from blog to blog and read about heroes, enter a variety of giveaways, and see what books are out there to purchase!
For this hop I'm going to be giving away a handcrafted bookmark I've created
There is also 3 Grand Prizes
Now what are those prizes?
1st Grand Prize: A Kindle Fire or Nook Tablet
2nd Grand Prize: A $50 Amazon or B&N Gift Card
3rd Grand Prize: The following Swag Pack!
SO PLEASE WRITE IN YOUR POST YOUR COMMENT AND LEAVE YOUR EMAIL ADDY
(Side note, due to the increase in authors and bloggers being sued for using images I am posting pictures I own and purchased.)
When we read books we all have this image of what the hero looks like from the description the author has given up. If we tried to compare with one another most of us would have a very different image of what his appearance would be even though we've been told by the author. It is a part of how our mind works.
I find it interesting how if you ask a reader to compare a hero to a famous actor that is when similarities start to come out. It is like our imagination switches tracks and we go ahhh I think I can picture him as Hero A or Hero B.
When I write stories I don't always know everything about my hero. Sometimes the first thing I get is a name then then what he looks like just comes to me. I do have my inspirations that I look at as you can see. I pick and choose certain characteristics and my imagination brings the hero to life.
We as authors try to create the perfect man that our readers will swoon, drool, holler and even cry over.
So what makes these heroes so special? So swoon worthy?
How is it that a writer can create the perfect hero that the world can fall in love with?
I will say one thing, when I write my heroes I write them as if they were real people. Even if they are paranormal and or other worldly creatures.  Readers have asked me before if I could cast certain actors to play the roles of the different heroes in my books who would I choose. I find that as one of the hardest questions to answer. Why? Because I just can't see anyone playing the role. I laugh and think about how I wish I could snap my fingers and have my hero walk off the page of my book and be unique and play his own role..I know not possible but as an author I can dream.
I also think the reason I can't picture Hollywood actors playing the role because I've seen them in so many movies and there are just some roles that they will be remembered as and or known for.
So let me ask you a question. From the books you have read by me who would you cast for the role of the hero in the book you've read? Post the name of the book, the heroes name and the actor you see playing him.
If you've not read any of my books, tell me what draws you to a hero in a story?
I wanted to also tell you about the latest release I've got. These heroes are not your typical type. They are powerful, and push the boundaries of control and submission.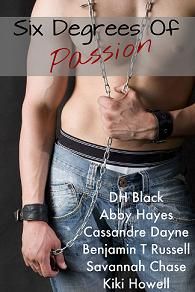 Imagine a world full of boundless passion, where the intimate touch of a man or woman and the desperate cravings pent up inside, leave you breathless with anticipation. Passion and desire come in many forms, and some of the most powerful moments shared between consenting adults can include aspects of the BDSM lifestyle. When you love someone with all your heart and soul, will the passion you feel give you enough to submit total control? The journey into the lifestyle is uninhibited, complete with trust and understanding, and few of us ever experience these heightened levels of joy.
Join six talented writers as they bring you varying aspects of the BDSM lifestyle in sizzling pieces of flash fiction. These snippets are designed to draw you into the heat of passion filled nights, unbridled looks at highly erotic sessions. Included are Kiki Howell's tales of the paranormal, where vampires and witches fight for the very souls of humanity and each other. Cassandre Dayne's scorching stories of passion stretch the boundaries of our secret fantasies. Benjamin T. Russell's captivates with intense glimpses into a Dom understanding a submissive's deepest needs. In addition, Savannah Chase has a sensual, soul wrenching and yet gripping way of sharing the powerful intimacy experienced between women. Abby Hayes gives you highly charged and quick-witted tales of kink between multiple partners that will keep you guessing to the end. Finally, DH Black, will leave you shuddering with her gritty and sometimes brutal aspects of showing the darker side of BDSM.
Each tale entertains while leaving the reader trembling for another installment. Indulge. Fantasize. Delve into the darker side of passion…