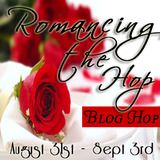 What is your favorite thing about Romance? Well, we authors are ready to share our romantic tips and favorite romance reads! Starting today Aug 31 and ending September 3, over 100 Authors and Bloggers will share their favorite things about romance, reading romance, and dating.
And while we do that, we are EACH doing a giveaway. Yep. There will be over 100 giveaways on each blog hosted by that Author or Blogger.
But that's not all….
We have THREE grand prizes. You as a reader can go to EACH blog and comment with your email address and be entered to win. Yep, you can enter over 100 times!
1st Grand Prize: A Kindle Fire or Nook Tablet
2nd Grand Prize: A $130 Amazon or B&N Gift Card
3rd Grand Prize: A Large Swag Pack
So since this hop is all about romance and dating I'm going to share a snippet from Bid For Love. We all have adventures in dating but my heroine Nico is having her own adventure in speed dating. 
Bid For Love
Nico sat nervously at her table as a tall well dressed man sat in front of her. He was wearing a navy blue suit and a white dress shirt with the top two buttons undone. His short brown hair was slicked back.
"Uh ha, no not now," she heard him say out of nowhere.
"Excuse me?" Nico asked as he sat in front of her.
"Which part of not now did you not comprehend?" he said once again.
Nico didn't know if she should tell him to leave or get up on her own and leave. As he turned his head she noticed the tiny wireless earpiece. It explained his comment or at least she hoped that was the reason for his rudeness.
She noted how he was staring her up and down as he smiled. Uncomfortable, she adjusted her glasses. He'd just looked at her like she was a piece of meat or something. If this guy was a preview of what was to come, she wanted out. Now!
Instead of talking to her, he'd spent the whole three minutes on his phone. He was glued to the darn thing. What was the point of even being there if he was going to spend the whole time on his phone? No wonder the guy was still single.
Unfortunately the next few men weren't any better. One was here to find someone to have a one night stand with, and another was looking for someone attractive so he could make his ex jealous.
Nico was intrigued by the things people revealed when they only had three minutes to talk and make a first impression. So far, most of them were not good ones.
After all she had seen so far, she was more than ready to bolt, and fast. The only thing left was to figure out how.
Just as her last three minute nightmare was coming to an end, she glanced around the room. Surprisingly she saw something that made the evening even worse than it already was.
There on the other side of the room, sitting at a table, was Jeff. The man who rocked her world. The man she wanted with every fiber of her being.
He was seated with a drop dead gorgeous brunette who had the tightest little number on she had ever seen. The woman's extra large sized breasts were pushed up and out for every guy to see. There was no way to miss them.
Nico tried to finish off the last few moments of her meeting with her current so-called date, but her attention kept shifting back to Jeff. It didn't help that the woman he sat with was throwing herself at him. The flirtation couldn't have been any more obvious, especially considering her leg was rubbing his up and down before it disappeared above his knees. One of Jeff's hands was also under the table.
Buy now
Buy Now From Amazon
To join the hop and see all the other amazing participants head on over to  http://carrieannbloghops.blogspot.com/
I will be giving away a handcrafted bookmark to one lucky winner.