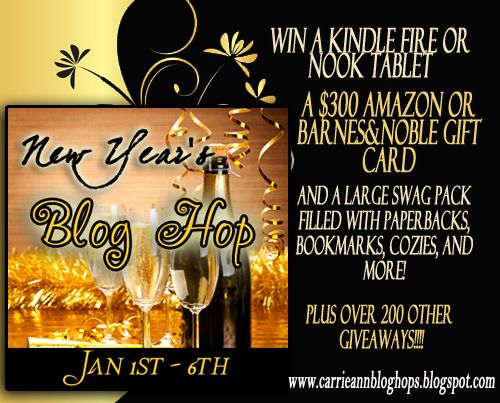 Prize I'm Giving Away: 1 PDF ebook copy of my currently released book
Blog Hop Prizes: 1st Grand Prize: A Kindle Fire or Nook Tablet
2nd Grand Prize: A $300 Amazon or B&N Gift Card
3rd Grand Prize: A Swag Pack that contains paperbacks, ebooks, 50+ bookmarks, cover flats, magnets, pens, coffee cozies, and more!
To enter for my contest and blog contest comment and make sure to leave your email..
Happy New Year my beautiful friends, guests, readers and fiction lovers…So wonderful to start the new year off with all of you..
So with the new year you know what that mean….Resolutions..We all make them…even if we start them and not follow through. The start of a new year seems to motivate us to try to make changes in our lives. Health, job, friends, love.
Will I be making a resolution this year? Yes I will..I'm going to continue to work on continuing my weight loss journey and to try to take more time for me. I've gotten into this crazy routine of working and forgetting that I'm not a machine. That I can say no and just relax. Shut my mind off and veggie out. I adore what I do and would not change it for the world. To write is to express myself. To create it to open a world of possibilities to everyone.
I plan on making a lot of changes this year not only with my career but on a personal level. I look forward to what the new year will bring. I'm all for change even if it is scary and something I might not want to deal with. I've been fortunate to be offered opportunities to work with truly amazing people and do things that are new to me. I've taken them on and embraced this new venture, new world.
So what resolutions are you making this year if any?
For more hoppers check out http://carrieannbloghops.blogspot.com/