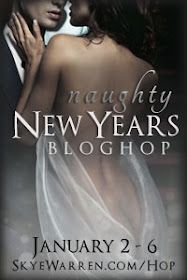 What a way to get the 2013 year going….a naughty hope is what you need…This time around there are so many sexy prizes you kn ow you don't want to miss them.
Grand Prizes:A $100 Gift Card to sexy fun online shop EdenFantasys
An Erotic Bundle – 10 New Releases from Hot Authors
My giveaway: 1 ebook PDF copy of any of my currently released books
To enter for leave a comment with the answer to the question at the end…
So with a new year I've decided to get a little more naughty…Is that even possible? Oh you know it is…In the last half of the year I've started to reveal more of my BDSM writing. It all started with flash fiction to introduce my readers to the genre since it is something they have not read from me. I wanted to do it gradually and waited till I was ready to expose this work to the world.
It has been a beautiful experience to slowly expose this side of my writing to the world. So far the feedback has inspired me and made me thrilled that readers are embracing this. I know that with the popularity of a certain series people have become more curious when it comes to erotica and BDSM.
Many people still don't understand what BDSM is about and I hope they take the time to research it a little and get more informed.
I've been working on a new anthology collection full of BDSM flash fiction and BDSM/erotic poetry…I love to express myself with words..I don't care if it is stories or music or poetry.
I've decided to write more erotic stories featuring BDSM content. I've got so many different ideas to share and not enough me to get it all done…
Here is an erotic/BDSM poem I wrote
Reflections by Savannah Chase
Copyright 2012
Darkness surrounds me
I am blinded
I am bound in place
His hands run over my skin
Fingers slowly embrace my neck
Push my head back
His breath brushes my flesh
He wants me to see
Who I truly am
Callused hands
Heavy breathing
He wants to love me
The way he sees me
Stripped bare
Broken and fragile
I want you to see
His words seep into me
The beauty within you
He frees my eyes to the light
Surrounded by mirrors
Nothing but reflections
Naked and unable to cover myself
Don't you dare he commands me
I continue to struggle my hands free
No use
Look
Feel
See
Our eyes meet
Fire consumes him
He keeps composed
I see the beautiful you
You are not damaged
He turns my face towards him
I can't deny my lover
Hunger feeds him
I must open my eyes
Find my own reflection
For now I'm lost to his touch
I wanted to ask you as  a reader, are you into the BDSM genre? What is your opinion on the spike in popularity in the genre?