JustRomanceMe is back with a brand new hop and you know I had to take part in this fantastic event. As you can see from the poster above the event runs from Feb 10 to 12th. We were give an option to either write something with the 3 words we got from a word generator or use the pic below and write something to go along with it. I decided to go with the pic and wrote a story called Cinnamon Hearts..It is a little different from my norm and I hope you like it.
Remember I will also be giving away a prize, a ebook copy of my menage book Unwrap Me..Make sure to check out all the sites and also enter at the end to win some fantastic prizes including a Nook Touch filled with books and other fab prizes from my fellow authors who are taking part in the event.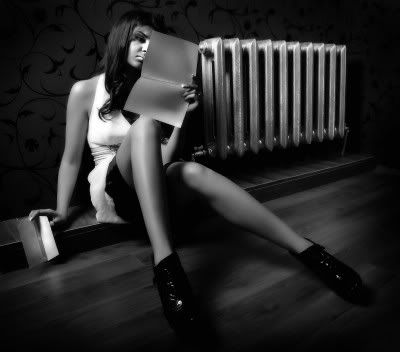 Cinnamon Hearts by Savannah Chase
Copyright 2012
Startled by the loud knock her eyes shot towards the entrance of the room.
"Ten minutes till show time Maggie," a male voice said from behind the door.
"Thank you, I'll be out in a bit," she replied and continued to look at the dressing room door.
She'd purposely put the Do Not Disturb sign up so nobody would come in and bother her as she sat and read the letter from Jimmy. Most of the time the sign worked, except when it came to her brother, and his soldiers. They could care less about it. Her brother saw it this way, this was his club and he could do whatever he pleased.
Privacy didn't exist and she was surprised when she walked in and saw the vase full of flowers. Someone must have slipped into her room earlier and left the flowers while she'd been on stage. She knew Jimmy wouldn't dare come back here. Not when someone could see him. They couldn't afford to have that happen.  He had to stay away from her and those were the rules that came with being a member of a rival family.
Her heart still raced from the sight of the ivory envelope that had been hidden in the wall of the special vase that held two dozen red roses- her favourite flowers. Jimmy had arranged for the secretive design of the vase just so that he could get letters to her while she was at the club. Any delivery made to the club was checked extra carefully in case someone tried to send Antonio a little unwanted present. That's what you get when you piss off a lot of people by stealing from them and killing anyone who got in his way.
Leaning closer to the heater the warmth spread over her skin. Erasing the thought of her brother from her mind she thought of Jimmy as she removed the contents of the envelope and quickly began to read.
My Dearest Maggie
Words cannot express how much I love you. My heart aches every moment that were apart. I miss the sight of your long brown hair as it cascades down your back, and shoulders. The sweet scent of your lilac perfume that wear. I crave your searing kiss. The sweet taste of your scandalous lips. The way your hands run down my back when I make you tremble as you come in my arms. I can't take being apart from you any longer. I will pay the price for my love for you. As long as I'm with you nothing else matters. All these cold lonely nights are an eternity of darkness without you. Each breath I take is worthless without you in my arms. Soon we will be together.
I love you
Jimmy
His face flashed in her memory. His chocolate brown eyes looking at her as a perfect smile crossed his lips.  The way his facial hair tickled her as they kissed. The mere thought of him sparked her body to life. She missed him dearly, and hated that they couldn't be together just because of the family she came from. This wasn't the old days when rival families kept away from each other's turf. This was the twenty first century and people had the right to be with whoever they wanted. Just because she had the last name of Moretti she had to follow different rules. Why? Her brother was the boss of the Moretti clan, and he ran the territory.
Her attention shifted back to her surroundings when once again someone knocked on her door.
"Five minutes till show time," the voice informed her.
Maggie let out a deep sigh. She couldn't even have a few minutes to herself without someone knocking on her door. This was her overbearing brother's way of checking up on her without actually coming to the door himself.
The sweet smell of cinnamon wafted through the air as she continued to look at the beautifully written letter. Jimmy placed a few red hot cinnamon hearts into the envelope with his letter. She loved that about him. He would always do little things for her just to show her how much he loved her. As long as they were together that is all that she needed.
Maggie smiled at the thought of knowing he was here at the club. Whenever Jimmy sent her a letter it was a sign to tell her that he was there. It was the only way they could communicate without anyone seeing them together. The club had many preying eyes that were watching her every move and waiting for anything to report back to her brother.  She wondered how Jimmy had slipped in without her seeing him.
The thought of him continued to intensify the ache between her legs. Something that Jimmy only ever made her feel. He is the only man who'd ever stolen her heart. The only man she's ever loved, and would risk her life for so that they could be together.
Gathering herself up off the finely polished wooden floor and she made her way over to the brightly lit vanity. Sitting down she glanced at her reflection in the mirror, the letter still in her hand.
She knew that if she and Jimmy were to ever have a future together she had to be free. Free of this place, and free of her brother and his mindless hatred. Free of the never ending war.
Placing the letter back into the envelope she picked up her purse and tucked the envelope on the very bottom in a secret compartment. With one last touch up of her makeup she took a deep breath and got up to make her way towards the door. The moment she was late she'd have one of her brother's goons banging on her door.
*****
"Ladies and gentlemen. I want to welcome you all to the Golden Lounge Cub. Tonight we have a very special guest for your entertainment. She's beautiful, and has the voice of an angel. So without any further delay I want to present the ravishing, the talented Maggie Moretti," Sammy the clubs deejay said and made his way off the stage.
The club band began to play softly and Maggie made her way onto the stage. The audience cheered and whistling erupted as someone hollered from the back of the room. "Ohhh Maggie you are the girl of my dreams. Marry me."
She smiled at the proposal. They were nothing new. Men would come to the club get liquored up and that is when they had enough nerve to say something to her. Most of the time they wouldn't notice her brother standing and watching on until one of the soldiers dragged him out of the club.
Smoke filled the club as ladies and gentlemen continued to engage in conversation, flirts, and indecent proposals left their lips. She looked on as a man sitting in the front row placed a kiss on the hand of the woman sitting across from him as she seductively ran her foot up and down his leg before it disappeared under the table.
The beat of the music flowed freely throughout the club. Her eyes scanned the room for any sign of Jimmy. She found him sitting to the left of the stage; his eyes solely focus on her as he looked on. He looked so handsome dressed in his black suit. At the bar she saw Antonio- her over protective brother- standing as he sucked on a cigarette and downed another whiskey on the rocks- his drink of choice. One of his soldiers-Sammy the shaker- stood next to him and they talked. Antonio didn't appear to happy about what he'd been told.
She'd barely had began her song when Antonio followed by Sammy. They headed in Jimmy's direction. Her stomach tossed and turned as an overwhelming feeling of dread overcame her. She knew she had to keep her feelings in check at all cost. No way in hell would she give herself away to her brother. She and Jimmy had discussed it before, if Antonio got to him or anything ever went wrong, she were to keep her cool and act as if nothing affected her. She had to do everything she possibly could to keep her brother happy and from discovering that they were together.
The words of the song left her mouth but she couldn't help but glance over to Jimmy's table where her brother now stood. For the time being they were only talking. Talking was good, but not when you were in Antonio and Sammy's company, and you weren't part of the family.
Maggie closed her eyes trying to keep her composure intact. She had to get through this song, get through this set without breaking down.
When the song had finished the patrons of the club erupted in praise and cheer as they stood up and clapped. She smiled politely and thanked them for their support, everything felt so natural and like a habit. She'd done this so many times before. By now it felt so automatic.
When everyone settled back down she regained her view of Jimmy's table and that's when she saw the situation had turned ugly. Antonio and Sammy were making their way out to the back with Jimmy. In the blink of an eye they were gone and there was nothing she could do to stop her brother from what he might do.
To be continued…..
To join the hop just click http://justromance.me/
If I'm the first person you have visited the link will take you to the starting line so you don't miss out on any amazing posts.
Added note at 2:26pm Est: The to be continued is there because this will be released sometime during the year as a short novella free read..Stay tuned to the site and blog to find out when..
February 10th, 2012 in
Blog Hop
,
Holiday Blog Hop
,
Holidays
| tags:
Blog Hop
,
Cinnamon Hearts
,
Cupid's Choce Valentine Hop
,
ebooks
,
JustRomance Me Blog Hop
,
Love
,
love letter
,
romance
,
unwrap me