So this past weekend I had the chance to attend my first Sexapalooza event. I found out about the event from a friend who'd attended it in previous years. I met up with a few people at the event and we decided to explore what Sexapalooza was all about.
Right as we walked in you were welcome by the Giant Vagina. Yes hello and welcome…We invite you inside…LOL Well you were able to crawl through the vagina if you wanted to. Trust me men were doing it with a huge smile on their face. LOL
The first place we stopped by was the Sex Museum. It had posters with sex facts, laws, classic lingerie and ton of info.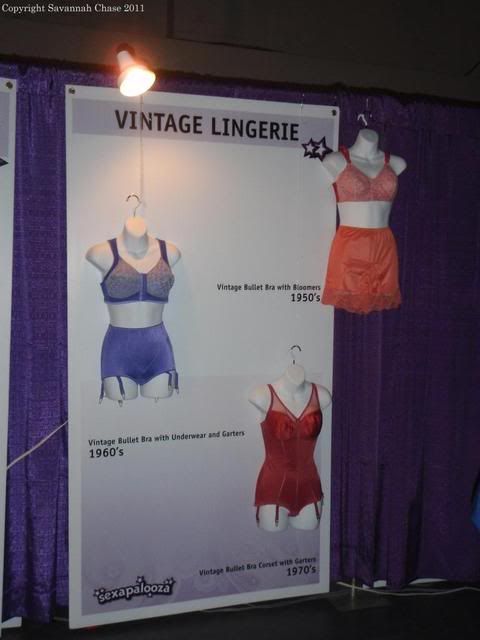 Willowdale Oregon it is illegal for a man to curse while having sex with his wife…Urm ok…No curing if you are in Willowdale Oregon.
Harrisburgh Pennsylvania it is illegal to have sex with a truck driver inside a toll both…..No toll both sex…Damn…LOL
After the museum we were walking by the body painting booth and met one of the artists by the name if Joshua Mayhem. I've seen his work before at other events. His stuff was even featured on Dragons Den during Sexapaloozas chance with the Dragons. Interesting guy with humor and talent.
We had the chance to visit the Clitoraid booth. It is not what you think. Clitoraid is an organization that helps women who have been affected by clitoral excision or genital mutilation against their will. It is a really great organization. Please do check them out by clicking the link.
As we continued on to more booths we had the chance to meet a burlesque performer by the name of Li'l Relly. Such a great lady to talk to I must say.
Her table had a ton of sexy nipple pasties with and without tassles. If you want to add a little spice you have to get some of these.
We stopped by Love Style, a huge company that sells glass adult toys. As you can see in the picture they are not cheap but from what I was told they are well worth the price.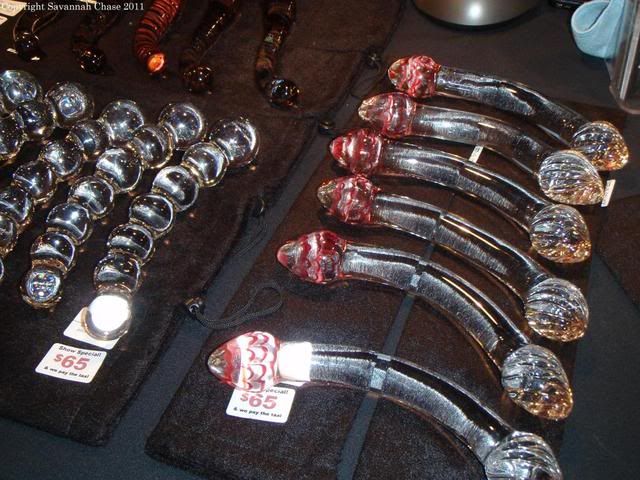 If you think toys are boring and non fun. You have to see the stuff they had. There are swirls and flowers and everything else in between.
People were having a blast when we got to this next booth with this kinky little swing.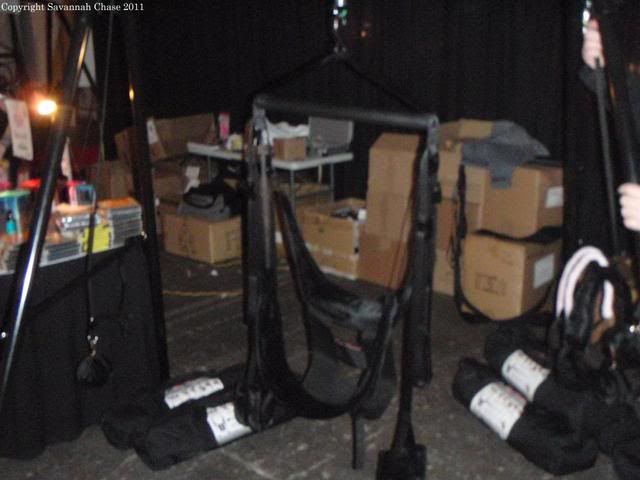 Bed Times is the company that carries this little fun toy.
Oh I forgot to mention, there were different rooms set up. One was am educational video room which featured Exploring Guilty Pleasures and Sexual Power Play, Toys for Better Sex, and The Better Sex Guide to Great Oral Sex.
Another room was the Erotic Film Festival which  featured Inside a XXX Marriage: Eric and Wendy, Under the covers, One Size Fits all and Afrodite Superstar. In case you were wondering there was some free adult movies so you know the rooms had people filling up to check them out.
At other events I have gone to the adult films were not in rooms but right in the open on the big screens for the attendees to watch.
One of our stops was at the Dungeon they had sent up. there were no pictures aloud inside so sorry no pics. Inside they were teaching whipping techniques and how to ties people up. I had the chance to get my hand tied up by the demonstrator and one of the people I was with.  Such a quick and non painful way to learn a little bondage.
The people inside the dungeon were amazingly friendly and willing to explain everything. It was a blast.
I had the chance to see some familiar attendees and booths at the event. Aradia Fitness was there. You could learn how to shake your booty and pole dance.
We also stopped by the body painting booth once more after seeing a guy walking around with an amazing outline of wings on his back.
As you can see they extended the art to his face. The little detail made it really cool. The gentleman who was modeling and getting painted is an actor by the name of Lorien Honoure. The amazing artist who painted this is Tania Crook.
We were stopped by two hunky guys who's booth was surrounded by Canadian flags. Turns out it was the Canadian Hot Bods , a male revue for ladies. One of the hunks at the booth I noticed looked familiar. I'm good with faces. Just not with names. In case you are wondering who it was, in the 90's there use to be a show called Catwalk. The hunk was Christopher Lee Clements who played an amazing dancer by the name of Atlas on the show. We got a few cards for admission into the event.
Can I say ladies night out….Oh yeah…
During the whole event they had stuff going on at the main stage. Fashion shows, sex toy demonstrations. Lots of screaming and moaning going on…
We stopped in to check out the burlesque show.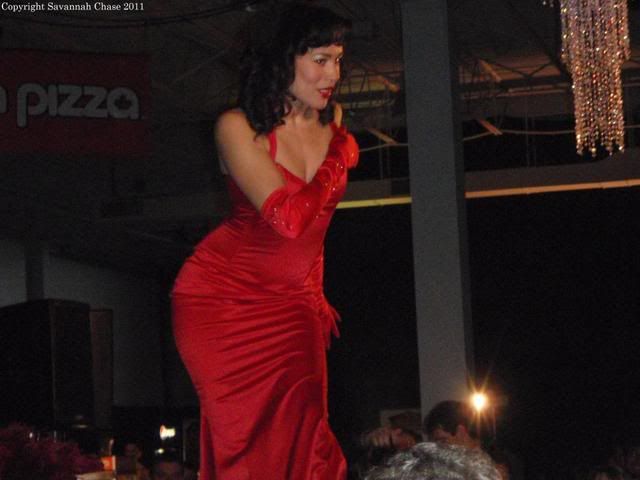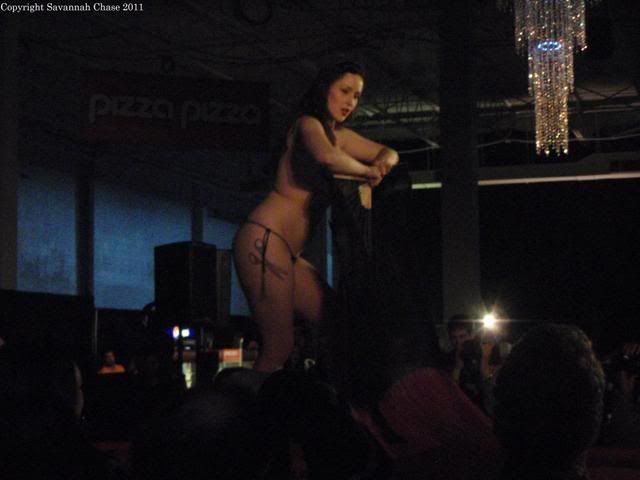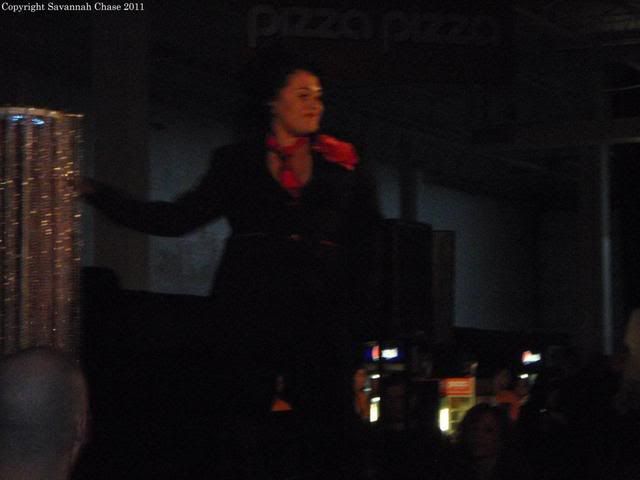 Yes that is Li'L Relly strutting her stuff on stage.
The burlesque performers were great. They are from Starlight Burlesque. One of the things I liked about the show is the fact that each performer was different. They came in all shapes and sizes. Not all one size. Each offered something different in their sexy acts.
One of the other familiar faces who was present at the Sexapalooza event was the Hedonism Resort. So great to see them again. If you want to know more about the resort just check out their link.
I got this hot little luggage tag from them. Eye catching…You know it.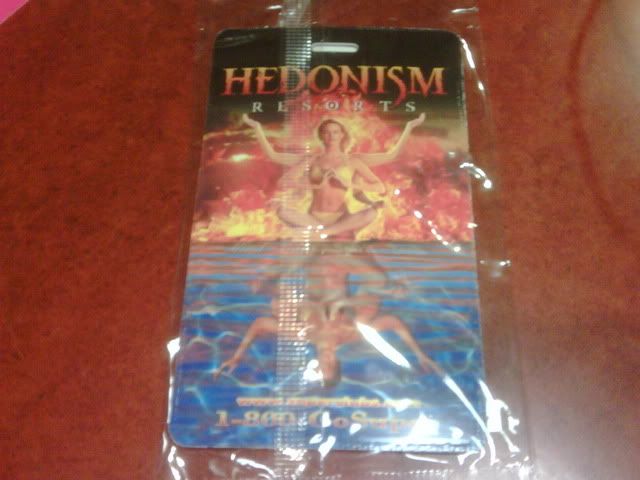 One eye catching booth was Dirty Sheetz Inc. What's Dirty Sheetz you ask? They are a company who has come up with a line of naughty bed sheet for adults. You can have a hunk or a lady or two of each on your pillows, covers and bedsheets.
All in all I had a blast. On our way out we went through the naughty tunnel. There were huge photo's where the heads were cut out and you could put your face in the hole and take a naughty picture.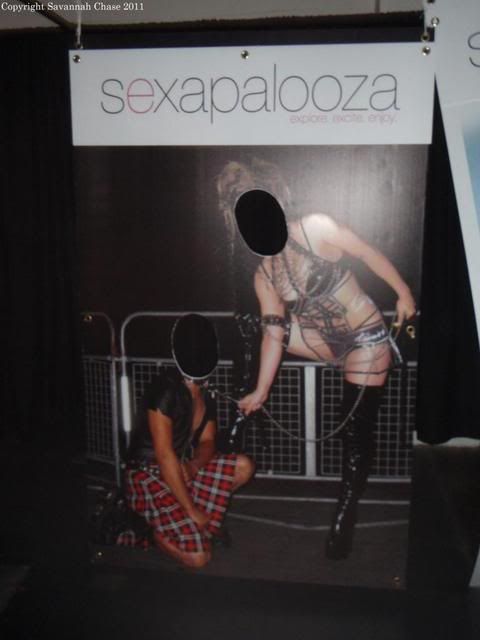 I know that each year the event continues to grow. Maybe next year I will be there with my books with a few other authors. It would be fun. It is a smaller event but still a great experience.
After the event we ended up going out to dinner. My whole meal was free due to a small little incident that happened at the restaurant. This was desert, white chocolate brownie with ice cream and whipped cream…OMG so good…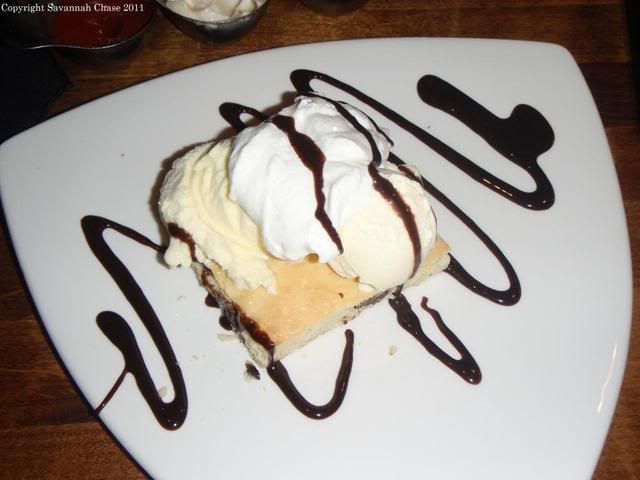 CONTEST ALERT
I am giving away a Free Intro Teaser Class coupon to one lucky person. The only thing is Aradia is located in Ontario so unless you will be coming to Canada by April 15 I have to keep this contest to Canadian's esp Ontario residents. I wish they were loacated all over so all of you had the chance to enter for the coupon. To enter just leave a comment and at the end mention you would love the Aradia Teaser Class coupon.
Contest will be open till March 3, 2011 Midnight…I will annouce the winner March 3.